Get Involved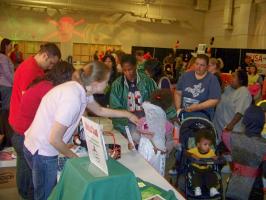 Volunteering with ODDS is a fantastic way to get to know others in the dental community. Service is the hallmark of every profession, and you'll feel good about your contributions to the dental community.
You may also find it an excellent networking tool and you'll enjoy serving with a group of dedicated individuals who share a common interest.
ODDS has several standing committees, so you have many options:
Review and update ODDS Bylaws as requested / needed.

Join your friends and colleagues as ODDS provides oral health education and other services at community events throughout the year. Sign up to help out at KidzExplore (February), Healthy Trick or Treat Nights at the Omaha Children's Museum (October) or at other events as they become available.

We are very grateful to Ameritas for their Supporting Sponsorship. Ameritas provides financial support and donates toothbrushes for us to distribute! Thank you, Ameritas!

Promotes membership in ODDS; Recruits and retains members; Supervises Welcoming Committee at each ODDS meeting.

Assist Immediate Past President in identifying potential leaders for various ODDS roles; prepare for January election.

in providing necessary steps to ODDS members involved in patient disputes.

Midwest OMS
Thanks to the generous support of Midwest Oral & Maxillofacial Surgery, the ODDS presents annual scholarships to area dental assisting and dental hygiene students from Iowa Western Community College and Metropolitan Community College.
Midwest OMS is located at 14625 California Street in Omaha.
Volunteering Provides Professional Growth and Personal Satisfaction